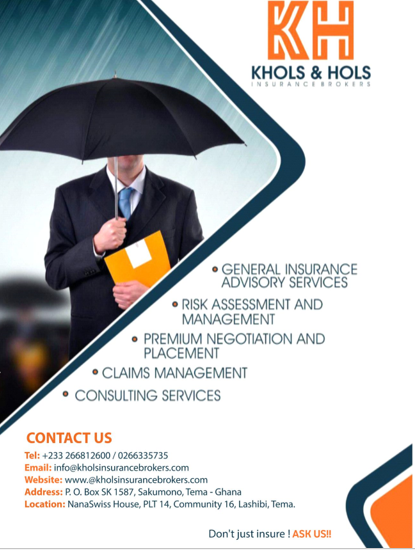 COMPANY PROFILE
Khols and Hols International Insurance Brokers Limited was Co-founded by Dr Andrews Adugudaa Akolaa and Seth Obiri and incorporated under the Companies Code of 1963 (Act 179) in December 2014 and obtained its certificate to commence business in December 2014 from the Registrar General Department. It is a wholly indigenous Ghanaian limited liability company.
The company is in the business of insurance advisory services, risk management and efficient claims management. The affairs of the company are steered by experienced professionals who champion the cause of good corporate governance.
CYBER INSURANCE
The widespread use of technology and digital systems in businesses worldwide, including Ghana, has increased the risk of online interference and cyber attacks. This has led to the need for cyber security insurance, which helps mitigate the financial losses that can result from various cyber incidents, such as data breaches and network damage. Such insurance can protect businesses from potential financial harm and loss of sensitive and confidential information.
PUBLIC LIABILITY/PRODUCT
The policy provides protection to the insured against legal liability for accidental bodily injury or property damage caused by the negligence, omission, or commission of the insured or their employees. It covers legal expenses and charges as well. This policy is crucial because it is a requirement under the new insurance Act 2006, Act 724 and section 184, which mandates all commercial businesses and public places to have insurance against third-party liability risks.

WORKMEN'S COMPENSATION
This insurance policy is designed to comply with the employers' liability legislation in Ghana, such as the Workmen's Compensation Law of 1987. It provides coverage for legal liability to employees for personal injury or death resulting from accidents or illnesses during the course of their work. The policy can also be extended to cover common law liability, which includes additional compensation awarded by a court to an injured employee who is not satisfied with the initial compensation given.
PLANT & MACHINERY ALL RISK
   This policy will indemnify the insured by payment of cash or by the option of the insurer by reinstatement or repair of property insured as a result of the occurrence of any fortuitous and sudden physical loss or damage from any cause not specifically excluded in a manner necessitating repair or replacement
FOREIGN TRAVEL INSURANCE
  This insurance cover caters for your needs while traveling from Ghana to the rest of the world
LOAN PROTECTOR PLAN
 This product specifically provides essential protection to the lending institution that offers credit by minimizing bad debt and default from death and permanent disability through accident or illness.
HEALTH INSURANCE
These policies take care of General and Specialist consultations, laboratory and diagnostics services, medicine, and antenatal and post-natal services, surgery, etc. either as an out-patient or in-patient.
MARINE CARGO
 This policy is designed to cover goods carried on a ship. The cargo policy is designed to cover essentially accidental loss or damage to goods carried on board.